Regular price
Sale price
$18.95
Unit price
per
Sale
Sold out
This soothing and warm deck of 20 affirmation cards (printed front and back) holds 40 uplifting messages to remind the NICU mama that she is strong, and that she will get through this tough phase of her motherhood journey.
Life in the NICU can be overwhelming, scary, and full of uncertainty. These affirmations are designed to help the mama who is going through this experience feel hopeful, feel supported, and find joy and resilience in her story.
To get the most out of the NICU Mama Affirmations:
♡ Read through the cards daily as part of your mental health self-care routine
♡ Keep cards out while you pump for your baby (if you are pumping)
♡ Grab a card anytime you feel frustrated, sad, or overwhelmed
♡ Choose one card each morning to focus on and set the tone for the day
Durable and easy-to-disinfect cards made for new motherhood and NICU life:
♡ 20 cards, printed with unique messages on both sides for 40 total affirmations
♡ Printed on premium quality 350gsm heavyweight stock with a velvety soft finish
♡ Featuring soothing neutral tone designs babies will love to look at too
♡ Each card measures 4in x 5in
♡ Waterproof and rip-proof, with rounded edges
♡ Wipe clean and sanitize as needed
How do affirmation cards work?
Our inner voice has incredible power over how we experience life every day.  When the messages we feed ourselves are positive and affirming, we are more confident and calm when facing challenges that come our way.  Many moms have relied on birth affirmations to help them manage labor and build confidence that their bodies can handle childbirth.  The NICU Mama Affirmations are a similar tool to support new moms embarking on the NICU journey with their babies - to help her tap into a deep reservoir of inner strength and resilience.
View full details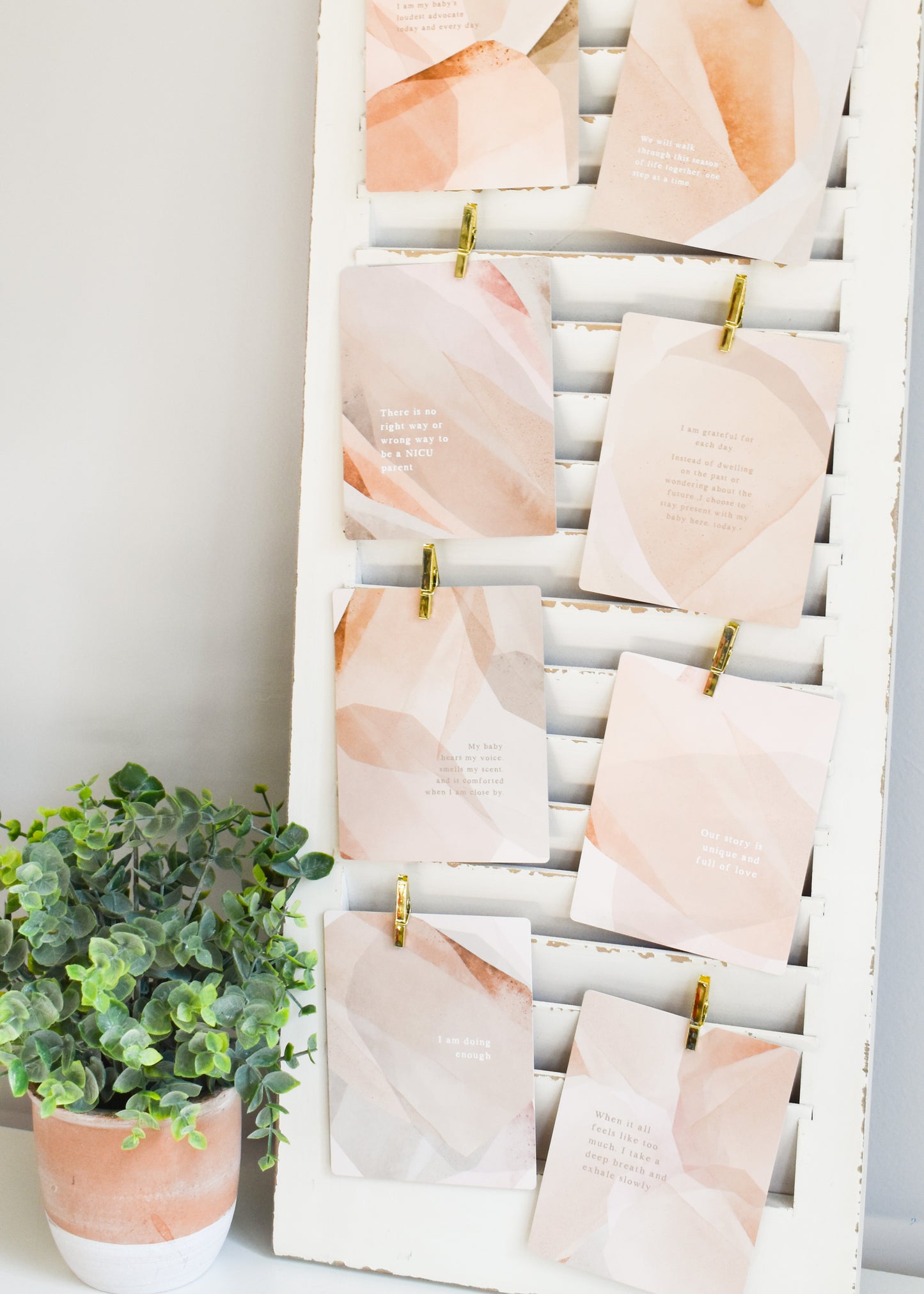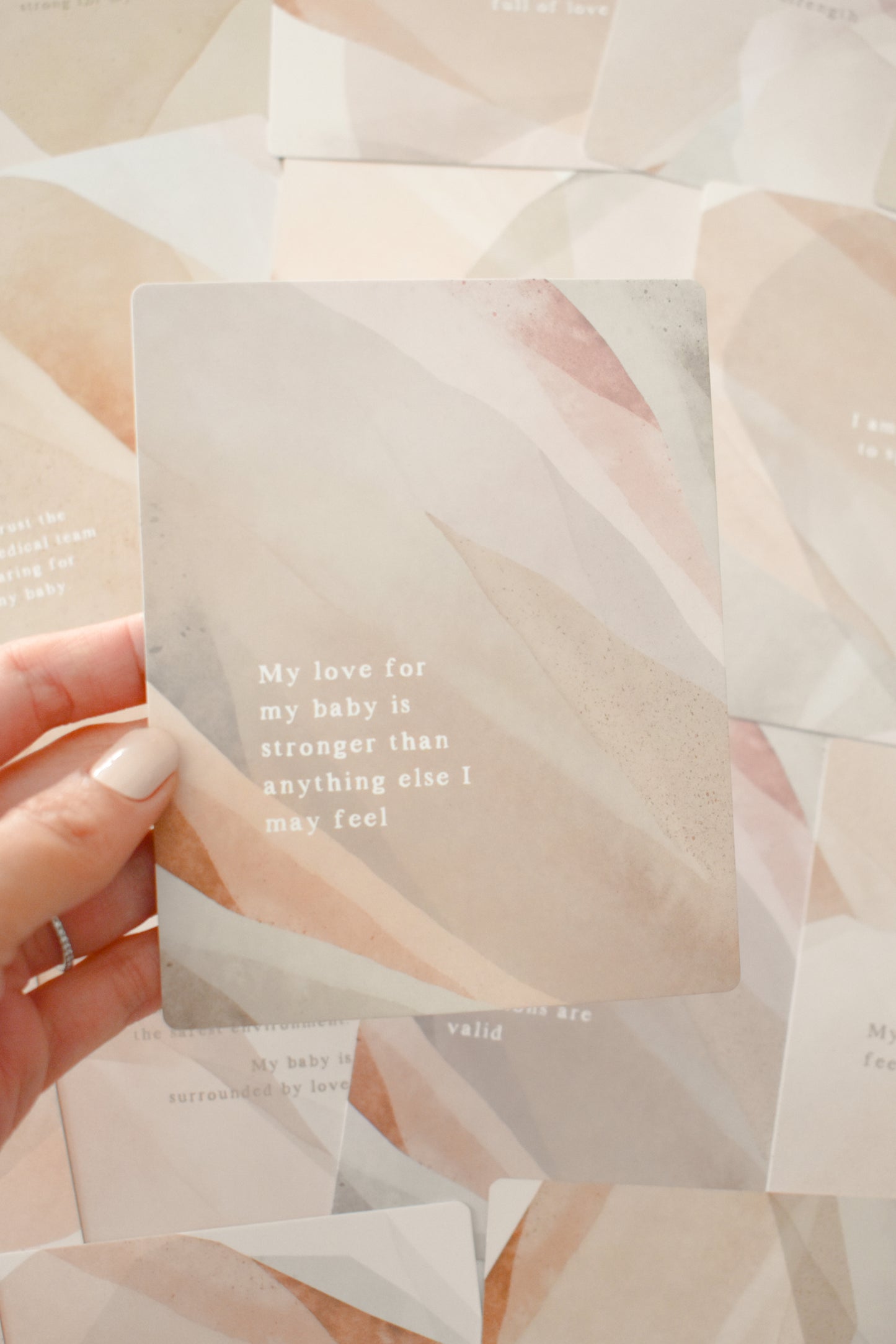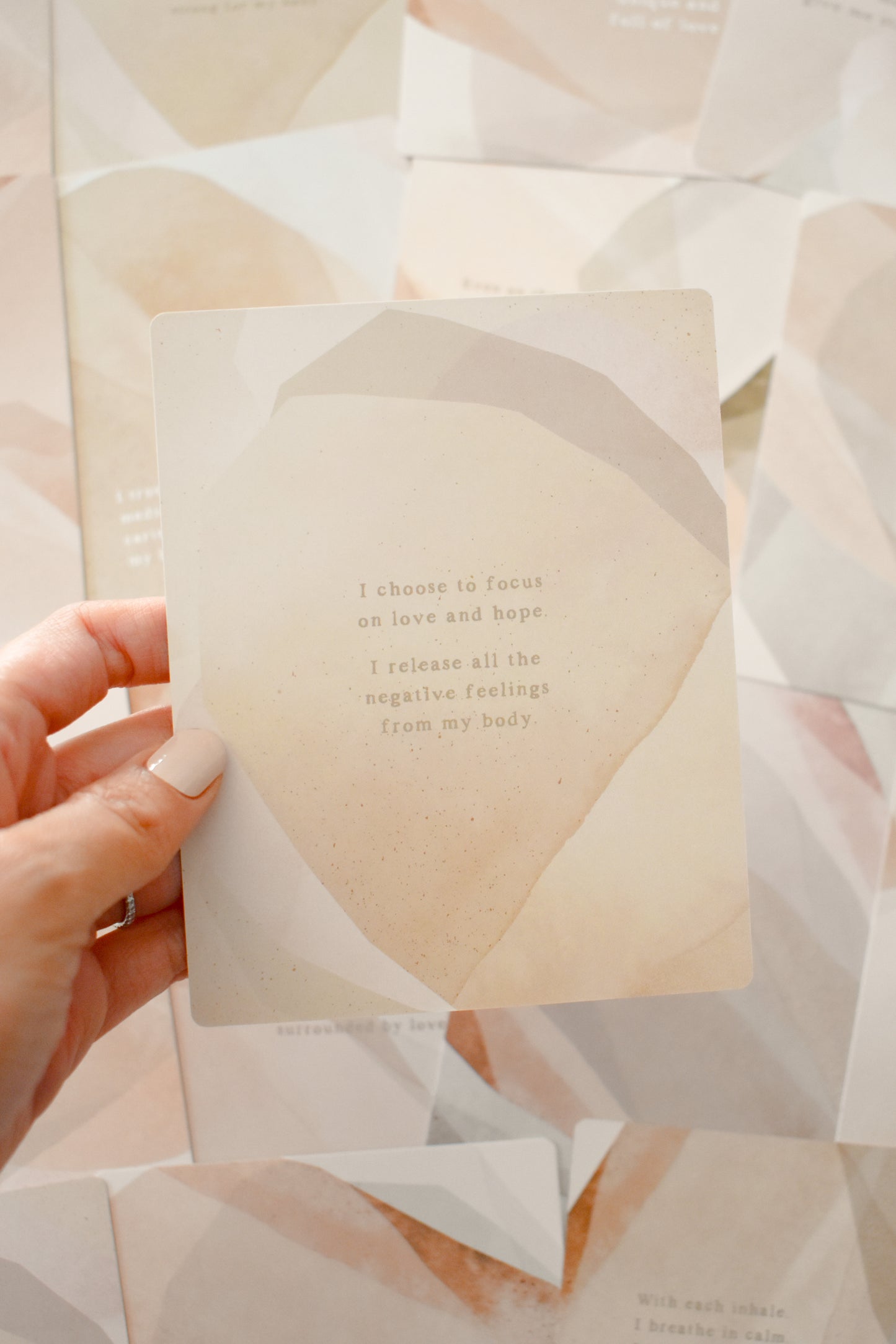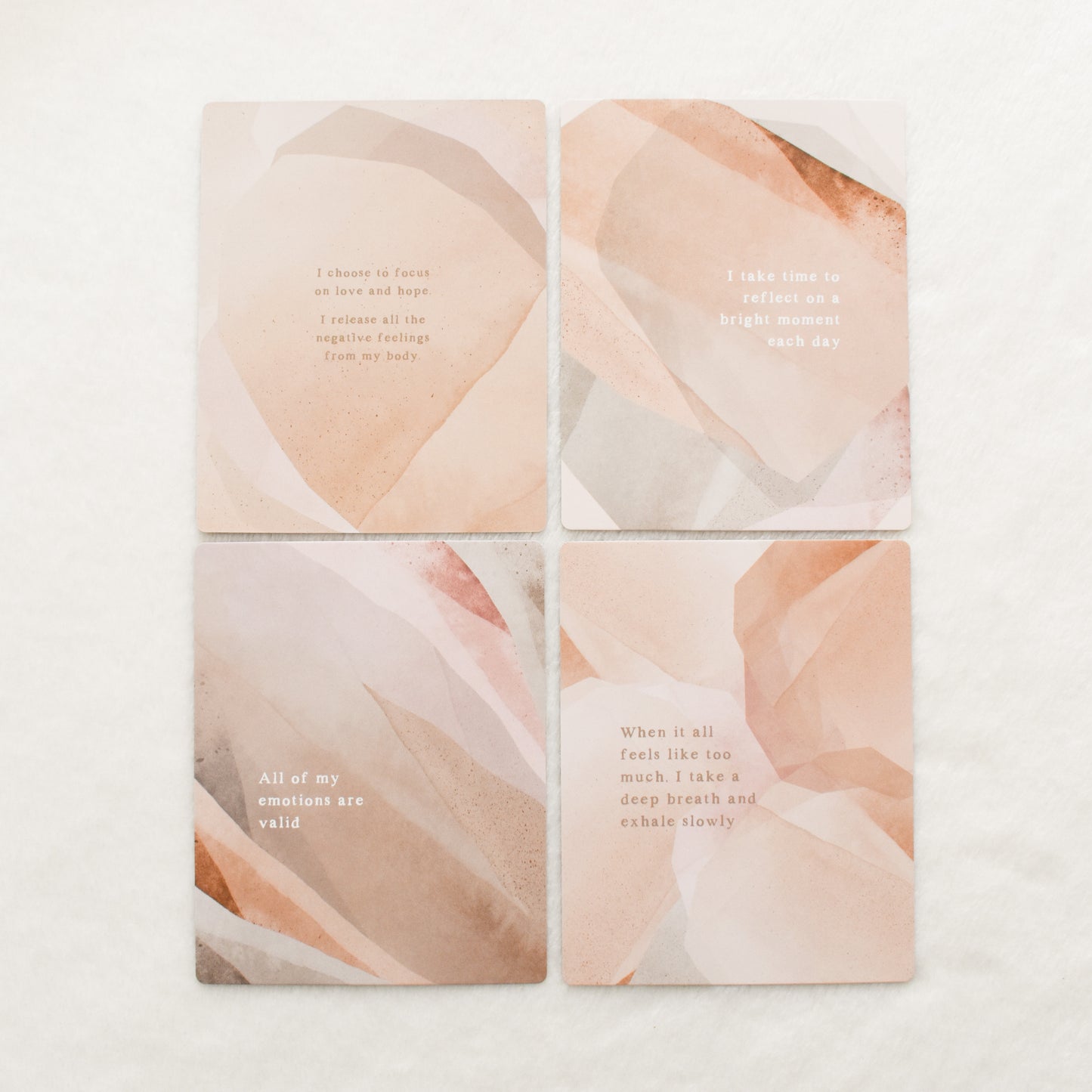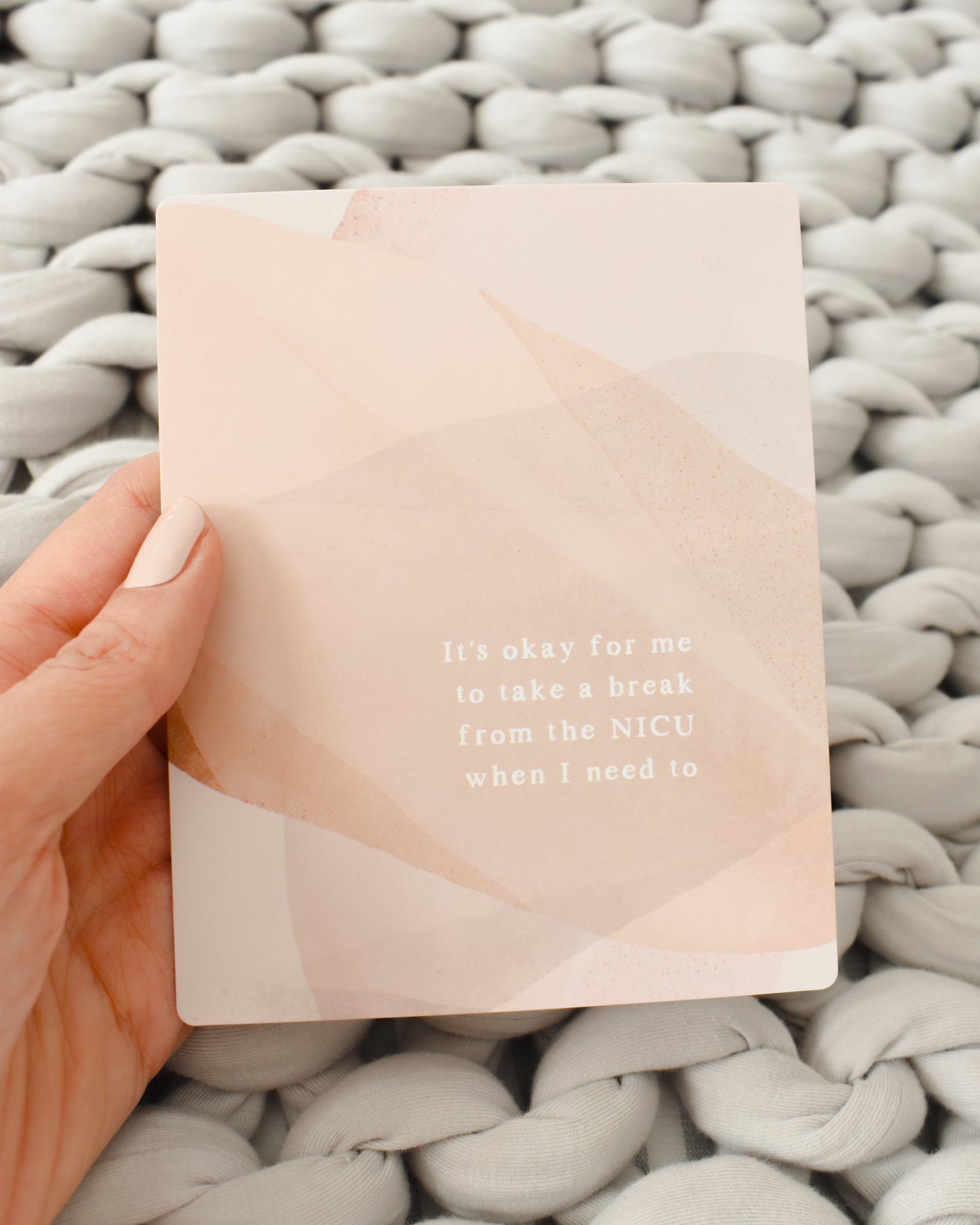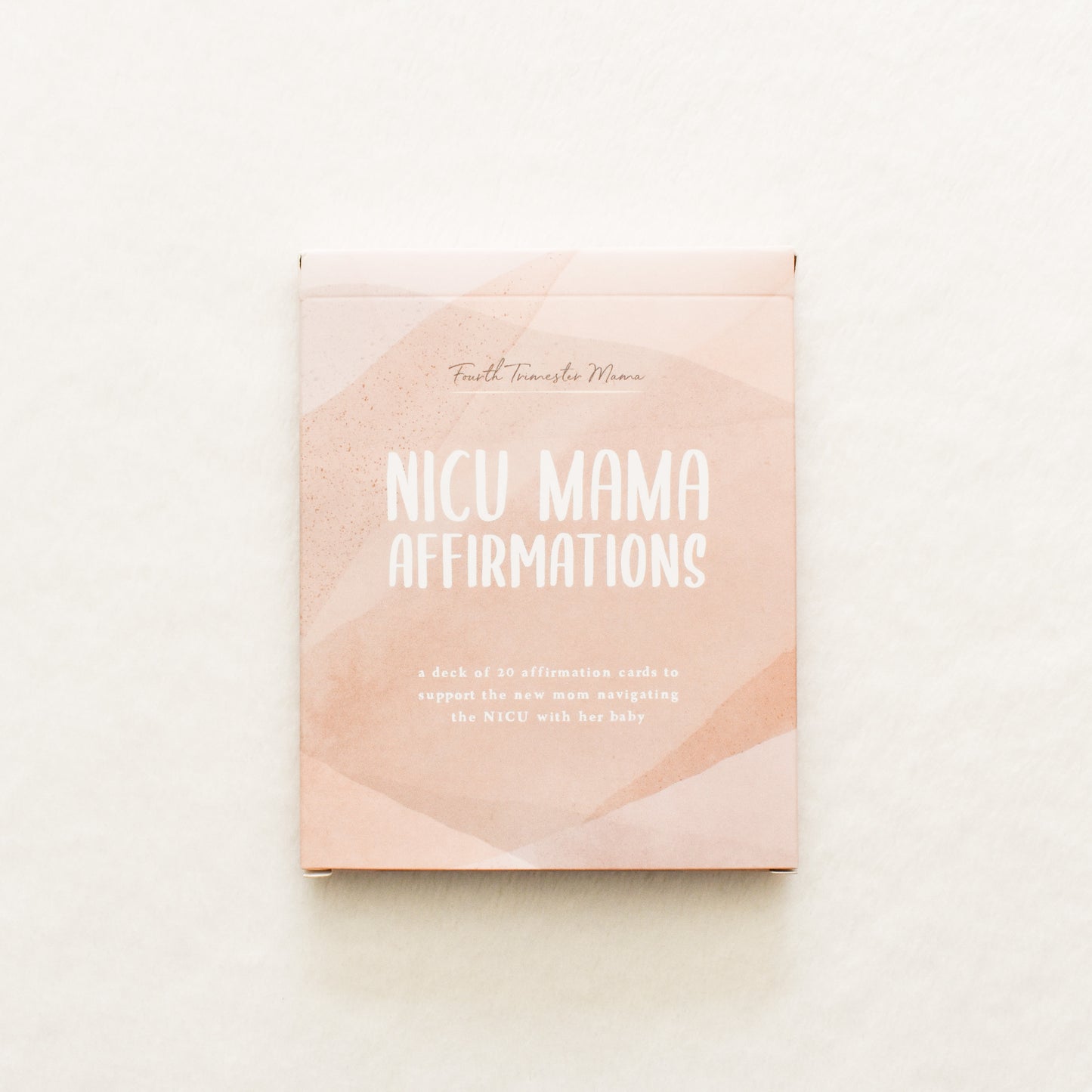 I bought these as part of a gift for a mom who recently had a premature baby. She was so excited to read the messages. Beautifully packaged. I didn't look inside packaging, but everything looked as described.
These cards are perfect! Exactly what I was looking for.
The NICU Mama Affirmations cards are beautiful. They are for my sister-in-law who just delivered twins at 26weeks. The babies are going to be in the NICU for awhile, so I thought this set of cards would really help her in times of need. It's hard to help with advice when none of us in the family has been in her situation, but I know these cards will help bring some sort of peace to her. Thank you so much for making these beautiful cards!
I work as a NICU social worker and wanted something to help encourage momma's who are here for the extended periods. These were great and fit the bill. They were added to a folder to hand out to moms for extra support.
Bought these for a friend with a NICU baby. They were quick to ship, and she loved them.